No matter the season,
Woodson Landscaping

can help your yard
reach its full potential!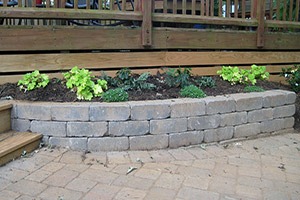 SPRING
Wake up your lawn with fertilizer and protect it from weeds with pre-emergent. Update your curb appeal with new shrubbery, colorful perennials & annuals or some metal edging.
Want to enjoy your beautiful yard without getting eaten alive by mosquitoes? Woodson Landscaping is certified in mosquito control and offers plans to rid your outdoor space of dangerous and annoying mosquitoes.
We offer hardscape design and installation. Patios, walkways, retaining walls and fire pits of any shape or size. We custom build them to suit your needs! Whether you like natural stone, clay brick or concrete pavers we can create your dream back yard!
Whether you're looking to add to your existing landscape or want a complete overhaul, we can design and install the plants you're looking for. If you want your beds to really shine, think about adding custom LED lighting. Timed direct lighting will really display your new plants and light up your walkway!
We offer individual weed treatments and yearly plans with various payment options. We also offer mowing services weekly, bi-weekly or by request if you head out of town!
We offer budget-friendly services!

We take care of the mosquitoes so you can enjoy your yard!

We cover your year round landscaping needs!